Instagram: A Platform for Watercolor Artists
Instagram is a great platform for watercolor artists to share their work and connect with a global audience. With over 1 billion active users, there is a large potential audience for watercolor artists on Instagram.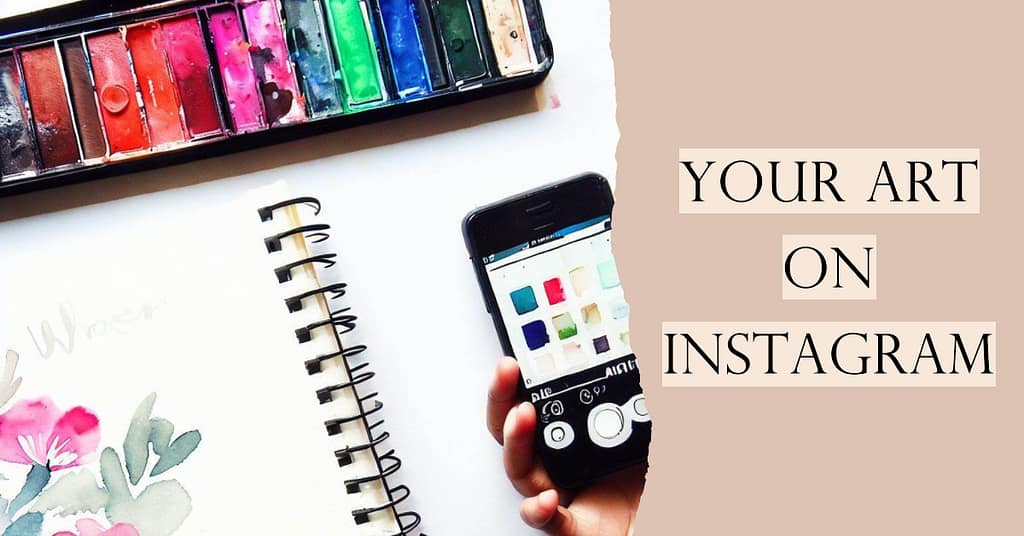 Here are some of the benefits of using Instagram for watercolor artists:
Reach a global audience: Instagram is a global platform, so watercolor artists can reach people all over the world. This is a great way to get exposure to your work and connect with potential collectors.
Build a community: Instagram is a great way to build a community of watercolor artists. You can follow other artists, like and comment on their work, and participate in challenges. This is a great way to learn from other artists and get feedback on your own work.
Sell your work: Instagram can also be a great way to sell your watercolor art. You can set up a shop on your profile or sell your work through a third-party platform like Etsy.
Tips for using Instagram for watercolor artists
Post high-quality images: Your images should be high-quality and well-lit. This will help your work stand out from the crowd.
Use relevant hashtags: Hashtags are a great way to get your work seen by more people. Use relevant hashtags that describe your work and the style of art you create.
Interact with other artists: Follow other watercolor artists and interact with their work. This is a great way to get exposure to your own work and learn from other artists.
Run contests and giveaways: Running contests and giveaways is a great way to engage your audience and generate excitement for your work.
Instagram is a powerful tool that can help watercolor artists reach a global audience, build a community, and sell their work. By following these tips, you can use Instagram to grow your art business and reach more people with your work.
In addition to the benefits listed above, Instagram can also be a great way for watercolor artists to connect with potential clients and collaborators. By sharing their work on Instagram, artists can show potential clients their style and capabilities. They can also connect with other artists who share their interests and goals. This can lead to new opportunities for commissions, collaborations, and exhibitions.
Overall, Instagram is a valuable tool for watercolor artists who want to reach a wider audience:
25 amazing watercolor artists on Instagram
| Artist Name | Instagram Username | Style | Nationality | Description |
| --- | --- | --- | --- | --- |
| Cesc Farré | @cescfarre | Watercolor Landscapes | Spanish | Cesc Farré is a Spanish artist who creates stunning watercolor landscapes. His work is characterized by its bold colors and loose brushwork. |
| Jean-Francois Arnaud | @jeanfrancois_arnaud | Vibrant Cityscapes | French | Jean-Francois Arnaud is a French artist who paints vibrant cityscapes and architectural scenes. His work is full of energy and movement. |
| Azuma Syunda | @azuma_syunda | Delicate Illustrations | Japanese | Azuma Syunda is a Japanese artist who creates delicate and detailed watercolor illustrations. Her work is often inspired by nature and Japanese culture. |
| Marc Folly | @marc_folly | Realistic Portraits | Swiss | Marc Folly is a Swiss artist who paints realistic watercolor portraits. His work is renowned for its incredible detail and likeness. |
| Thomas Schwaller | @thomas_schwaller | Abstract Paintings | Swiss | Thomas Schwaller is a Swiss artist who creates abstract watercolor paintings. His work is characterized by its bold colors and dynamic compositions. |
| Eudes Correia | @eudescorreia | Whimsical Illustrations | Portuguese | Eudes Correia is a Portuguese artist who paints colorful and whimsical watercolor illustrations. His work is often inspired by animals and children. |
| Stephanie Boechat | @stephanieboechat | Botanical Illustrations | Brazilian | Stephanie Boechat is a Brazilian artist who creates stunning watercolor botanical illustrations. Her work is incredibly detailed and lifelike. |
| Alejandro Casanova | @alecasanovaart | Soft Landscapes | Spanish | Alejandro Casanova is a Spanish artist who paints beautiful watercolor landscapes. His work is characterized by its soft colors and gentle brushwork. |
| David McEown | @davidmceown | Realistic Portraits | British | David McEown is a British artist who creates realistic watercolor portraits. His work is renowned for its incredible detail and likeness. |
| Joseph Zbukvic | @josephzbukvic | Expressive Landscapes | Croatian | Joseph Zbukvic is a Croatian artist who is considered one of the world's leading watercolorists. His work is characterized by its bold colors and expressive brushwork. |
| Eva Vla | @evavla | Whimsical Illustrations | Czech | Eva Vla is a Czech artist who creates whimsical and colorful watercolor illustrations. Her work is often inspired by nature and animals. |
| Sergei Kurbatov | @sergeikurbatov | Soft Landscapes | Russian | Sergei Kurbatov is a Russian artist who creates stunning watercolor landscapes. His work is characterized by its soft colors and gentle brushwork. |
| Andrey Kovalik | @andreykovalik | Realistic Portraits | Russian | Andrey Kovalik is a Russian artist who creates realistic watercolor portraits. His work is renowned for its incredible detail and likeness. |
| Kelogsloops | @the_art_of_hieu | Whimsical Illustrations | Vietnamese | Kelogsloops is a Vietnamese artist who creates colorful and whimsical watercolor illustrations. His work is often inspired by pop culture and cartoons. |
| Michael Solovyev | @michael_solovyev | Realistic Portraits | Russian | Michael Solovyev is a Russian artist who creates realistic watercolor portraits. His work is renowned for its incredible detail and likeness. |
| Andy Evansen | @andyevansenartist | Watercolor Landscapes | British | Andy Evansen is a British artist who creates stunning watercolor landscapes. His work is characterized by its bold colors and expressive brushwork. |
| Tim Wilmot | @timwilmotart | Realistic Portraits | Australian | Tim Wilmot is an Australian artist who creates realistic watercolor portraits. His work is renowned for its incredible detail and likeness. |
| Rukiye Garip | @rukiye_garip | Botanical Illustrations | Turkish | Rukiye Garip is a Turkish artist who creates beautiful watercolor botanical illustrations. Her work is incredibly detailed and lifelike. |
| Olgabor Akwarel | @olgabor_akwarel | Whimsical Illustrations | Polish | Olgabor Akwarel is a Polish artist who creates whimsical and colorful watercolor illustrations. Her work is often inspired by nature and animals. |
| Marcos Beccari | @marcosbeccari | Watercolor Landscapes | Brazilian | Marcos Beccari is a Brazilian artist who creates stunning watercolor landscapes. His work is characterized by its soft colors and gentle brushwork. |
| Ilya Ibraev | @ilyaibraev | Realistic Portraits | Russian | Ilya Ibraev is a Russian artist who creates realistic watercolor portraits. His work is renowned for its incredible detail and likeness. |